Swing
clamps,
with
threaded
body,
for
drilled
channels
(D)


Swing clamp cylinders release the clamping point on the workpiece. With this, it is easy to change the workpiece. This hydraulic swing clamp cylinder operates as single-acting or double-acting traction cylinder, whereas part of the stroke is used to rotate the piston. The model with 0° swing angle operates only vertical as traction cylinder. To guarantee a long lifetime the cylinders have an integrated metal wiper as standard.
The oil supply is made through drilled channels. The seal takes place directly in the mounting hole. You can select between right or left turning models with various standardized swing angles. The integrated overload protection protects the swing mechanism from damage due blockage of the rotation or improper assembly of the clamping arm.
For any risk of exceeding the permitted volume flow a throttle check valve must be interposed into the oil supply line. Counter-hold the clamping arm when tightening or loosening the counter nut in order to prevent torque transfer to the piston rod and to avoid damage to the ball guide. Variations with 0°, 30°, 45°, 60° and 90° swing angles are available. The permitted operating pressure is depending from the clamping arm length.
Except from standard clamping arms also special clamping arms can be assembled. The maximum operating pressure of 500 bar does not apply for each clamping arm length. For details about the permitted operating pressure, see data sheet.
When installing the cylinder pay attention on precise cleanness in the oil passages.
Ventilation
for
single-acting
swing
clamp
cylinders:
In order to avoid malfunctions, the spring chamber of the single-acting swing clamp cylinder must be vented. The penetration of foreign particles and liquids into the spring chamber must be prevented eg. by a sintered metal filter. If necessary, an additional vent line can be connected.
(The sintered metal filter and the vent line are not included in scope of supply.)
---
Application
examples:
protecting metal wiper

integrated overload protection

pipeless oil supply via drilled channels

easy loading and unloading of the fixture

customer specific clamping arms can be mounted

standard and special clamping arms available
---
Design: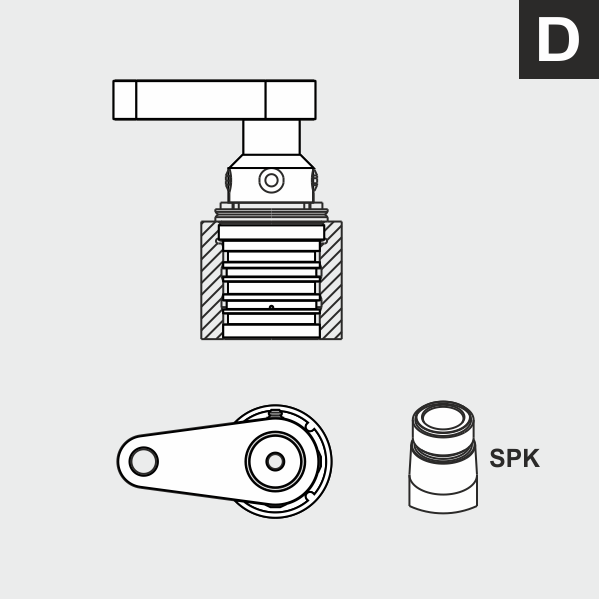 Type
D,
threaded
body
without
flange
The dimensioned installation contour can be found on the data sheet.

---
Clamping
arm
holder:


Taper,
ratio
1:10
Clamping
arms:
SPK/c single clamping arm
SPK/d single clamping arm
SPK/e single clamping arm
SPK/f double clamping arm






single-acting and double-acting



0°, 30°, 45°, 60° and 90°



D (threaded body without flange)




















---
Data
sheet
(PDF):
---
Selection
guide: