Docking
system
in
the
machine
tool
BlueStar®

Components
in
this
application:
Coupling elements
(Product information)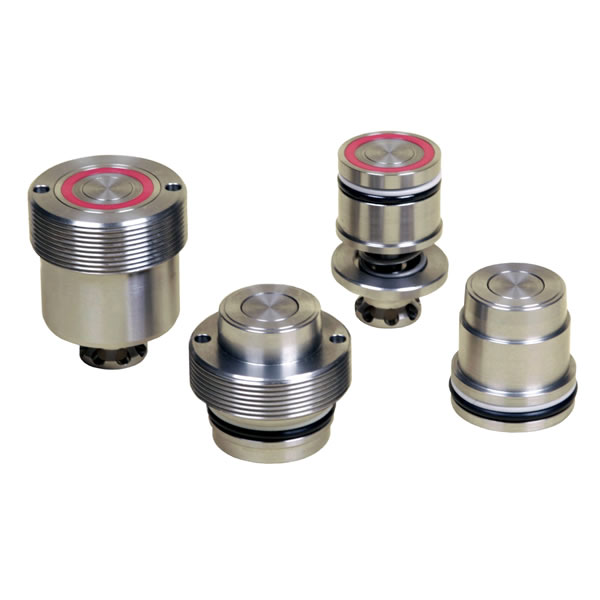 Rotary couplings
(Product information)

Coupling system with hydro-mechanical locking in the loading and unloading station. In such projects it is crucial for an innovative solution that the partner enterprises are included at an early stage in the brainstorming process relating to the design concepts. The result for the BlueStar5® is a coupling design that accommodates the fitting of two, four, six or eight media connections in the loading and unloading station. Bearing in mind the objective that the machine is to be marketed as a cost-effective option, HYDROKOMP was also obliged to take this aspect into account.
HYDROKOMP's approach to this solution consisted of offering a docking system in which the jig pallets in the loading and unloading station are not clamped by means of the clamping cones in order to absorb the coupling forces that arise. This function is undertaken by the docking system itself. In all the designs a separable connection is achieved between the lower, stationary and the upper, mobile halves of the coupling by means of hydro-mechanical locking pins.
In the machining station this locking function is once more taken over by means of the clamping cones. Here a coupling plate is fitted with two connections, connecting the pressure lines of the hydraulic clamping jig during machining, thus enabling pressure monitoring.
The docking unit in the loading and unloading unit is equipped with a rotary coupling, which permits rotation of the hydraulic clamping jig through 360°. The media connections within the sub-assembly are effected by means of drilled channels. Installation of the coupling sub-assemblies is always carried out directly, making them easy to install and service.
The illustrations show that the configuration principle of the the docking systems is designed to meet the particular requirements of a machine tool. In addition to their compact design, other points worth mentioning are the ease with which they can be kept clean
and maintained.
The smooth surfaces and the centre, spring-mounted air-jet help to maintain cleanliness. It can be demonstrated that the level of
contamination of the couplings has a direct effect on their service life. For that reason it is important to exploit all the design options when configuring machines and jigs, in order to reduce contamination of the docking systems.
In the area of maintenance, HYDROKOMP supplies an installation tool with which the frontal system seals can be very rapidly replaced without dismantling the coupling elements. With its unequalled expertise in this area, HYDROKOMP is setting future trends with this family of docking systems. We will be happy to demonstrate to you that our strengths include not only our engineering solutions but also quality and delivery reliability.
Downloads:
---