Threaded
body
cylinders,
small-format
design


These single-acting threaded body cylinders are ideal for clamping small workpieces because of their small-format design. With a small cylinder spacing as low as 15 mm, the threaded body cylinders can be screwed into multi-clamping fixtures to save space. The pressure oil supply is realized through drilled channels. The cylinder is sealed against the ground in the threaded installation hole by the supplied Kantseal.
Workpiece tolerances of more than 20 mm can be compensated by means of a sealing nut (accessory). The sealing nut allows a continuous adjustment of the screwing depth of the cylinder. Thereby it also seals the cylinder at the upper edge of the threaded installation bore against leakage.
ideal for clamping small workpieces

space-saving installation options

infinitely adjustable built-in depths

pipeless oil supply via drilled channels

standard cylinders and special designs available

---
Important
note:
The threaded body cylinder with reset spring is not load-bearing in the declamped and retracted state. Protect the cylinders from direct exposure to aggressive cutting fluids and coolants. General operating conditions and other information can be found in the catalog or on the Internet page: "Recommendations & Specifications"

---
Mounting
examples: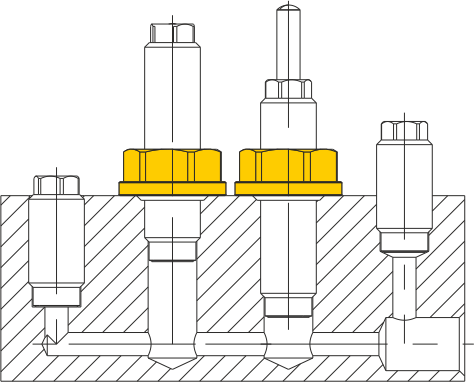 The sealing nut (yellow) is available as accessory.


pmin. 5 bar, pmax. 500 bar



single-acting with reset spring









from 0.5 kN at 100 bar up to 2.5 kN at 500 bar









---

Data
sheet
(PDF):